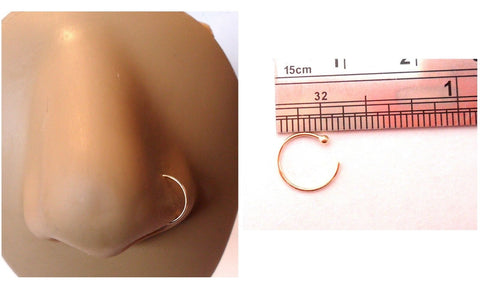 14K Yellow Gold Not Plated Thin Nose Open Small Hoop Jewelry 22 gauge 22g
Material:

14K yellow gold (not plated)
Diameter:

8mm (for a snug fit on most piercings)
This piece is worn by putting it on from the inside out.  Works good for either side of the nose.  The ball stops it from falling out.  Simply open it up a bit to slide it up to your piercing on the inside....push the hoop all the way through till it comes to the ball end.  Give it a little squeeze if you want it a bit tighter.

HOW TO MEASURE WHAT SIZE NOSE HOOP YOU NEED:
Take a ruler and use the mm part.  Place the tip of the ruler at your piercing holding the ruler straight down your nose.  Take a look at the measurement where the ruler meets the bottom part of the rim of your nostril...count the mm and there you have it!
---